Pauls Creek Point
up-and-back
EASY DAY HIKE
---
3.4 miles 1,650' elevation gain
best season:
Oct-Jun
but not if snow below:
4,000'
---
1:00 drive
dogs welcome
---
burned in Dixie Fire 2021
This hike takes the Ben Lomond trail steeply up to a scenic knob on the ridge. There you are high above the North Fork of the Feather River, but still only a little over a third of the way up this stupendous canyon
Ben Lomond rises 4200' vertical feet above the North Fork of the Feather River. This is big mountain scenery with a low base elevation.
The trail hangs on the cliff above Chips Creek, until the first switchback. It then goes relentlessly up at a 20% grade to the knob. This is our steepest hike. Normally we would consider the grade excessive and disqualifying, but the soil type is firm and and less slippery than would be the norm for other trails.
It is an easy day hike based on the mileage and elevation gain. That means it is easy to complete in a day. If you try to hike it fast, it is not easy.
It can be snow-free any time of the year, but will be blocked by snow whenever the snow level drops below 4000'. Some years it snows often at this elevation, and some years it rarely snows here.
If hiked when the weather is warm, try to start early in the morning before the sun gets too hot.
This hike is in Plumas National Forest; owned by the public, managed by Plumas National Forest. Backpacking welcomed; campfires welcomed except late Summer & early Fall.
---
Look for Shasta Lily at Portal Springs in June.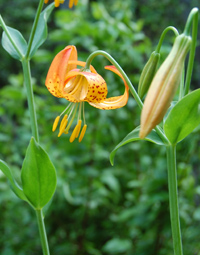 Note: this population represents a range extension (elevation 735m) & blooming season extension (photo 5/27/12) from that known at the UC Berkeley Jepson Herbarium
---
---
---
Maps Apr 2021 edition

Avenza version



Adobe PDF version

KML track of hike